We went to
Olongapo
last Friday and had an overnight stay at
Subic
. Subic is a forested area where monkeys are free to roam around the stretch of the road. Warning signs are up so that motorists are aware to give way to the monkeys when they cross the road. Also, monkeys are not to be fed by passersby.
The monkeys are cute actually. Most of the people slow down to take their pictures. The monkeys tend to show off and some go even near the cars. I don't want them jumping on me so I took their pictures from afar and with our car windows up. :)

A break from the city traffic.

See the monkeys along the road.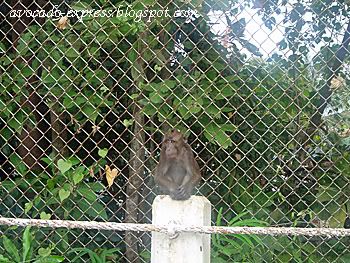 Sitting pretty. :)
I do not observe Christmas but boy I have been busy since the start of the holidays, how much more those who are all agog for the Christmas eve. :) If you need to relax from all the hustle and bustle, you can check out
Weekend Snapshot participants
.
Happy Holidays! :)