My family and I had our dinner last night at the newly opened
Lamesa Grill
at, where else, the second mall nearest us, Trinoma. As it had always been, I surveyed the interior and these caught my attention, the rain showers in the middle of the dining area and the bamboos which separate one table from another.
But of course, the rain showers are just coming from a shower hidden around the wooden band.
But the bamboo looks for real. Checking it further, the inside is not hollow but solid. It must be made of rattan.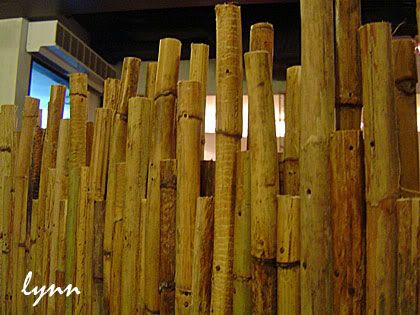 **********
Last night was our second try at Lamesa Grill, owned by the Philippines' mega actress, Miss Sharon Cuneta and senator-husband, Francis Pangilinan. We had lunch at their branch at Mall of Asia a few months back. I would say the interior there is a lot better than what they have here at Trinoma. Here, it's very cramped. They tried to make the place cozy by putting in the falls, hanging veneer lamps, the rain showers, the bamboos but the place is not as comfortable as their first branch. Some tables have an awkward size that three seats make it all boxed in but leaving two seats make it really spacious.
The food is good though. We ordered the Lamesa Combo consisting of lengua, chicken barbecue, pork barbecue, baked scallops and tahong, grilled tanigue and prawns. Just take out those 'deadly black carcinogens' when you have your grilled food. One of our favorite dish is the tortang talong (eggplant omelette) - boiled eggplant with ground pork wrapped in scrambled egg topped with garlic and parsley. Very tasty.
The service is great. The food servers are very attentive and quick to respond to every query. Considering it was peak, it didn't take long for them to get our orders, deliver them to our table and bring in our bill. Normally, in most fast-casual restaurants, these three activities take around ten to fifteen minutes each.
What's good also was the 20% discount they offered for every meal. Just show the Lamesa Grill flyer and that will entitle you to a discount. Good enough. :)
***I'll be out, I will be visiting other photo hunters later tonight. :)