My daughter and I have visited
Cocorama
a few months back. It's a cute dining cafe located at
Shangri-La Plaza Mall
in
Mandaluyong City
. I find the theme and the decors really creative. The walls are very bright. It has the 70s feel but with 80s color combination. I love the "flower power" mural. Part of the wall decorations are vinyl records I posted in one of my photo hunt entries. There's also a disco ball hanging from the ceiling.
They also have creative names for their menu list. There's Travolta, LSD, Scream and Jackson Five which I took a shot of below. I'm just wondering why there's one pancake which is not supposed to be there. Or is that supposed to be Michael Jackson? No offense to MJ fans out there. :)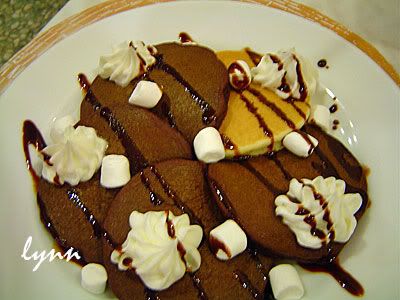 A big red VW Kombi serves as a wall separating the kitchen and the dining area. It also serves as the counter. The angus beef cooked and served Filipino style (well-done, with vinegar on the side and garlic rice) is good.