After office I planned to pass by the department store to buy my Vegas-based brother some things he requested me to buy for him. I decided to take the MRT instead for a faster commute. As I stepped out of the elevator, I was surprised with the huge crowd of people I saw in the lobby of the station. I asked around. Technical problem. Grumble. As of the moment, no train will be coming by. I don't want to wait. It will take an hour or more I believe. I will take a cab. But there is no empty cab. Every cab that passed by is occupied. Therefore I called my husband to tell him to fetch me.
I ended up at
Rai Rai Ken
. I realized I have not eaten properly today. Just had half a cup of coffee for breakfast, congee for lunch and two spoons of egg with mayo for snack. I was starving. I am not so fond of Japanese food but Rai Rai Ken is open till nine thirty. It was only seven something on my watch, safe enough to stay at RRK while waiting for hubby and satisfy my hungry stomach.
I had Unagi Don (eel in teriyaki sauce) because it's the softest real food they have. I still can't bite properly because of the recently adjusted braces. I am not in the mood for noodles anymore. The husband and the daughter came in an hour after.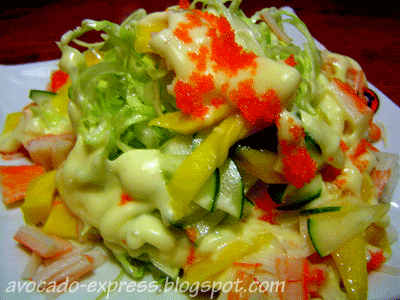 As usual the husband had his
Kani salad
. This is a staple for him whenever we are in a Japanese restaurant. Hubby made his own version of this using shredded cucumber and crab meat and diced ripe mangoes served with lettuce. Nothing of the salmon roe though. If I was already blogging then, I won't miss taking pictures of him in the kitchen doing his Iron Chef thing. Haha. He made his own Japanese mayonnaise as dictated by a friend of ours over the phone. Very simple, ordinary mayonnaise mixed with ketchup and a dash of salt and sugar and black pepper. Well actually I cannot distinguish between the usual mayonnaise we use for sandwiches and Japanese mayo. I think the Jap mayo tastes saltier.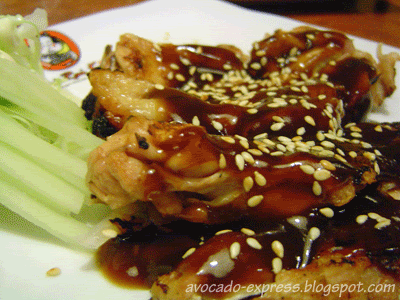 And our not-so-little-pretty-one had her chicken teriyaki. Normally I would ask for spoon and fork for the two of us so we can eat properly. I can use chopsticks but I don't prefer it when I am really hungry. But according to the daughter, she wants to get used to chopsticks. Okay then. I am not so fond of teriyaki sauce...Or if I may say, I don't like any sauce poured all over my food. I always want it on a separate plate so I can just dip my food a little which is what I did with my Unagi Don. Sesame seeds though makes teriyaki sauce tastes better.
My supposed only expense for the day which is seventeen pesos (.37 USD) for the train ride increased by four thousand percent (the increase was shouldered by the hubby of course, haha). But looking at it, that's better than waiting for the train or the cab that could take forever. Plus dinner with the hubby and daughter and going home with them capped my night very well. :)