I was thinking of what to share for this week's Photo Hunt. It has to be flexible. I thought of rubber bands, my daughter's ballet shoes...I thought of posting spaghetti noodles. My husband recommended his map light in his car, it has a flexible body. Hmm, it doesn't sound interesting to me, haha.
I settled to our hot air balloon pictures no matter how much my hubby talked me out of it. He said these balloons expand but they are not flexible. :D It used to be that it's only me and my daughter decide what pictures to share. Now it has become a family affair. :D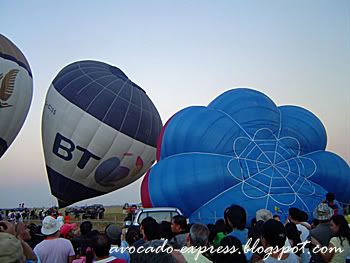 These pictures were taken at the
11th Philippine International Hot Air Balloon Fiesta
early this year, held at
Clark, Pampanga
. Suddenly a song enters my mind as I post about this..."up, up and away, in my beautiful, beautiful balloon...". Was this from the
Bridgette Jones's Diary
soundtrack? Anyway, there's another balloon song when I was in college,
99 Luftballoons
by
Nena
. I love this song back then.
One has to get out of his comfort zone and be flexible and try more adventurous undertakings like riding a hot air balloon. Now that strengthens these hot air balloons' connection with Flexible. :)
Check out other Photo Hunt Flexible participants
here
. I'll be going around PH participants later, Mommy duties beckon at this time. :)