I'm sharing a classic Filipino decoration. Even in another country, it has been said that you will know Filipinos are living in the house if you can see giant wooden spoon and fork somewhere in the kitchen or dining area. This shows the Filipinos' strong food culture. In some homes where residents are Catholics, it is normally side by side with a picture of The Last Supper.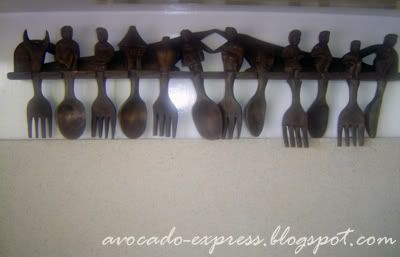 Interior decoration has evolved now, especially condo living is very popular among young couples, hence lesser space and more modern decorations donning the place. I don't see much of these wooden spoons and forks anymore.
A tourist destination in the Philippines is Honda Bay. Northeast of
Puerto Princesa
,
Palawan
is one the favorite vacation spots here,
Dos Palmas Island Resort and Spa
. The picture above shows a classic sunset view from the bay cottages of the resort. A magnificent view.
**********
Mood: Calm.
Music: Umbrella, Rihanna