So I attended, I'm glad I did! Like Feng and Salen, I have no expectations really of what will go on. I just want to meet whoever will attend and have a hearty lunch with them, have fun. Big thank you to Noemi and Connie for setting up the lunch-out. Great idea.
I do read posts of other bloggers of course though I don't go around much. I am so sure I was the least known among the attendees. Much as I want to post and post, and blog hop, there's time constraint. But honestly, after this mommy lunch, I got really enthusiastic to get to know them better and interact more. Not just the ones in there but the others as well. The good thing though is all of them are very accommodating and I did not experience any awkward moment conversing with them even if they are not familiar with me. The truth is it's as if this is not our first meeting. It was easy connecting with them.
One pleasant discovery, Julie, Cess and me live in the same area. The three of us can easily meet up and shop! Haha. I only got three pictures on my camera because I spent most of the time talking to the moms, listening to them, especially those sitting near me. I'll just
steal
request copies of pictures from the others. :) I would have wanted to go around, it's just one table afterall, but time was kind of short. I came in thirty minutes late and the lunch ended around 2:30 pm. Next time, I'll take the opportunity to meet and greet everyone.

(Row 1, L-R) Jane, Salen, (Row 2, L-R) Rachel,

Me

, Noemi, Connie, Dine, Feng, Julie, Lissa with her little Lex, (Row 3, L-R) Chat, Cess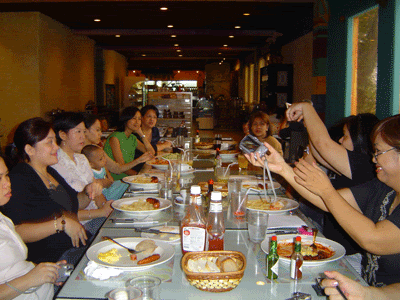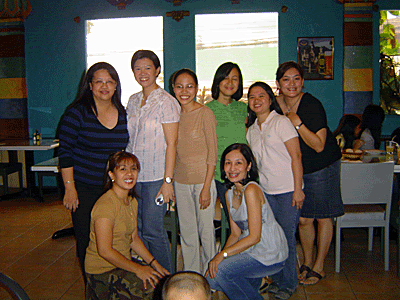 Pretty moms, I'm thankful I signed up for this first meeting. I hope too this will be the start of our friendship and more bonding moments.