I was in
Baguio
for two days last week. As expected, I bought Baguio goodies, primarily vegetables. I bought them thinking of cooking chopsuey. I was able to do that but there were still left over broccolis and cauli flowers.
We still have the
pansit bato
I bought during my trip to
Bicol
a month ago or so. A pack of Chinese sausage is sitting on the ref which is supposed to be for Yang Chow. But I was not able to prepare Yang Chow because there was no available frozen green peas at SM Supermarket when I dropped by. A great idea from hubby is to make pansit bato for merienda and use all these ingredients. So that's what we had Sunday afternoon. Brilliant!
Pansit bato got its name because of the place where it is sold -
Bato, Camarines Sur
. I am not really sure what difference these noodles have compared to other noodles sold in the supermarket. The hubby says there is no aftertaste unlike most noodles. It is also very affordable at twenty five pesos per kilo (roughly .56USD).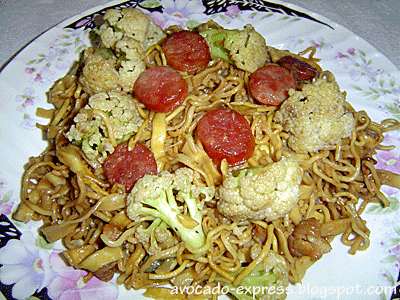 Pansit is very easy to prepare and very quick. Saute garlic and onion. Put in bits of pork until golden brown. A little water (depends on how many kilos of noodles you have) and then goes the noodles. My husband puts in shrimp puree as he calls it to create a seafood taste. He squeezes the head of the shrimp to get the juice and pour them in the pan. Put in salt according to taste. As soon as the noodles are tender, put in all the other ingredients - patola (sponge gourd), Chinese sausage, shrimp and last, cauli flower.
After the pansit, a little dessert capped the snack time. My favorite ube (yam) jam straight from the City of Pines. Tantamco's is the most salable brand next to Good Shepherd. Its sweetness is just right and the bits of whole yam are easy to chew. I love it!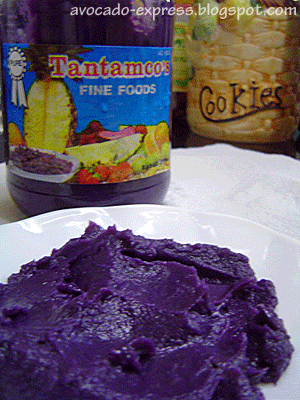 Check out other Weekend Snapshots entry
here
. The guidelines are
here
if you want to join.
**********
Mood: Geeky.
Music: The Sweet Escape, Gwen Stefani