It's
Pinoy Moms Network's
monthly photo sharing once again. As the logo on the left says, we are going "Green" for October.
I actually have a lot to share for the green theme. Let me post these pictures taken at
Caliraya Recreation Center
,
Lumban, Laguna
. Our family spent two days there about a year ago. It's two to three hours drive from Manila. It takes about a five minute boat ride from the parking/entrance area to Caliraya. From the recreation center, one can have a grand view of the man-made lake surrounding the resort.
The place implements a no-smoking policy, not within the immediate vicinity, not within the room. Smoking is allowed only some meters away from the recreation center. There's a one thousand peso fine for anyone caught violating the rule. How stiff, huh. :) But one's got to respect well-meaning policies. The place is also popular among retreat groups as well as for team building activities. There's fishing, boating, swimming, horseback riding.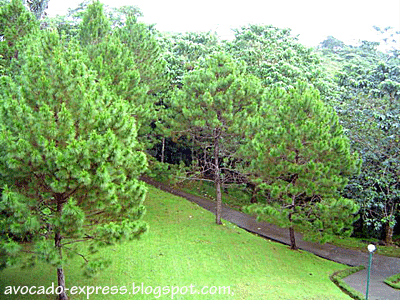 Nice view from the resort's building's window.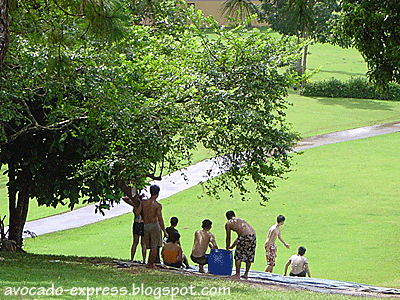 I took a picture of some guests enjoying their "mudslide" under the sun.
So green.
Once in a while it's nice to stay away from the hustle and bustle of city life, breathe fresh air and have a pleasant and relaxing view of lush greeneries.
Here are the mommies who opted to be Green:
Julie:
Environmental Responsibilities
Analyse:
The Colors of Burgundy
MegaMom
Green Thumb
Mitch:
On Nature
Noemi:
Luijoe's meadow
Rachel:
My boy in green
Vicky:
Green
Lynn:
Going Green
KK:
I love green
Lisaflor:
My little alien boy
Raqgold:
Green sofa
Mommy Chi:
The Green Room
Cookie:
Go green!
Auee:
What is your green rating?
**********
Mood: Hungry.
Music: Flood, Jars of Clay